Professional Installation
Professional Mosquito Control System Installation
Customer satisfaction is the reason we are successful.  Another key to our success is our people.  We recruit, hire and train only the best and we proudly produce the world's finest automated insect misting systems.  Every mist system that comes off our production line is calibrated, tested and given a serial number for traceability.
Experienced and highly trained installers will properly install your Houston mosquito control system making it virtually invisible in your yard. We stand behind our product with a two year 100% parts and labor warranty and offer flexible pricing plans for initial installation and service.
Our goal at MosquitoMax is to maintain industry leadership and continue to set new standards providing our customers with superior equipment and service.
Design layout is a critical as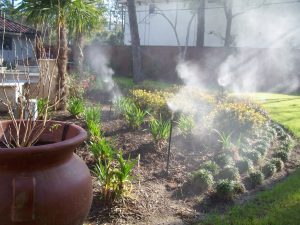 pect of achieving maximum mosquito control. We map out every property during our site surveys to make sure nozzle locations and pressures are optimized to guarantee the results our customers expect.
We effectively and strategically install insect misting systems to homes all over the Houston area. Give us a call toll free at 877-523-2525 or 281-579-2525 locally and we'll get you the bug free yard you deserve! In addition, you can install one of our technologically advanced mist systems yourself regardless of where you're located. Check out our mosquito mist system self installation page.