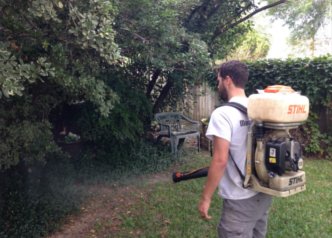 Get the mosquito yard treatment with a new look to mosquito repellent. Don't stick to getting attacked by mosquitoes. Our barrier spray treatments work immediately and Backpack Barrier Sprays work for four weeks. Our program includes a monthly service visit to treat your yard. We use backpack sprayers which are the best tools for barrier spray mosquito treatments.
How Our Mosquito Yard Treatment Works
We use a microencapsulated insecticide for our barrier spray treatment applied with a backpack sprayer. This works as a mosquito repellent to provide a great solution for your mosquito yard treatment. The treatment provides a barrier to keep further mosquitoes from entering the area. The application kills mosquitoes on contact so your yard is ready for you to enjoy. Key benefits to a barrier spray program are immediate short-term results and low cost.
How Long
One gallon should be enough for a mosquito season during the summer. We suggest spraying at least every three weeks to ensure great mosquito yard treatment. Make sure that your yard is dry before spraying.
Mosquito Yard Treatment for Special Events
If you are having a party, wedding, reunion or any other special event, we can do a special event barrier spray treatment. This is a great way to keep mosquitoes from crashing the party. MosquitoMax will apply the treatment in advance of your event. The repellent dries in 30 minutes. No one likes mosquito bites. Treat your yard and keep them away from your special event and from putting an end to a good time.
Contact MosquitoMax for Your Mosquito Repellent
If you're looking to keep mosquitoes away from your yard, use our backpack spray treatments! Call us today at for a free quote or contact us online. It's time to take back your yard. Let us help put an end to your mosquito problem today!
Mosquito Repellent | MosquitoMax, Houston TX